Want to create multiple Facebook accounts but are afraid of getting banned? Use MoreLogin in your daily routine to keep yourself safe from account bans.
Getting your Facebook accounts banned can sometimes be very frustrating. Your workflow gets disturbed, and your business might also get affected. The accounts get banned for various reasons, including those with the same IP address and email.
MoreLogin allows you to add another Facebook account and manage them safely without the fear of getting banned. This article will guide you on the key features MoreLogin offers and the proper steps to create another Facebook account immediately.
Part 1: Why Facebook Block My Second Account
As we all know, Facebook is the most widely used social media platform. You can easily promote your business and succeed in every e-Commerce field and affiliate marketing by representing your ads on Facebook. However, there are some high-end restrictions when it comes to account usage. Your account might get banned due to various reasons.
Having a second to your name is one of the major reasons behind the account ban. As per Facebook policy, you cannot have a second account if you are already a user. Even if you use different emails and phone numbers for registration from a single device, your second account will ultimately get banned.
Even if you are a team and using one account per person, it might again get banned due to the same IP address. However, you can run two accounts at a time only if you have 1 personal and 1 business account registered on your device. Also, two business accounts are not allowed for a single user.
Part 2: How to Create Another Facebook Account
People these days use a single Facebook account to carry out their multiple interests due to the Facebook policy of using one account per person. You can register for a second standard account, requiring a new email address.
However, you can create a business account using the same email address, but are you afraid of an account ban and want to secure it completely? In that case, using MoreLogin to create another account is your safest choice. Let us enlighten you with the features it offers.
2.1 Use MoreLogin to Create Another Account and More
MoreLogin helps you to keep your work routine fast and accurate with the multi-account feature. You don't have to worry about getting banned due to multiple account usage under a single email or the same IP address. It also offers users flexible package options to satisfy their demands very cheaply. You get a secure environment using multiple accounts within the solo device.
Key Features Related to MoreLogin
· Fingerprinting: A browser's fingerprint is unique to a particular device, and by analyzing this distinct identifier, websites can limit access to multiple accounts being shared across the same device.
· Antidetect Browsing: MoreLogin offers itself as an Anti-detect Browser, which can provide you with numerous browser fingerprints to utilize. These advanced fingerprints are highly beneficial because they are distinct and do not overlap, reducing the risk of getting your account banned on websites.
· Collaborative Work: There needs to be an adequate replacement for a highly effective and efficient browser for collaborative work using MoreLogin.
· Account Management: You can securely manage all your accounts within a single platform. This helps you to prevent detection or blockage.
2.2 Create a Business Facebook Account
Now, you can keep using your multiple Facebook accounts on a single device and using the same email address. Rest assured, you will not get detected or banned if you use MoreLogin for this purpose. Follow the after-mentioned steps and start your business Facebook account safely to resume your business operations.
Step 1: Download the Package for Your Device
Access the official website of MoreLogin to download MoreLogin free for your preferred device. You can choose from Windows or Mac, depending on your device. When the downloading is completed, launch the package, and register yourself. At the top-left corner of the screen, click the "New Profile" button.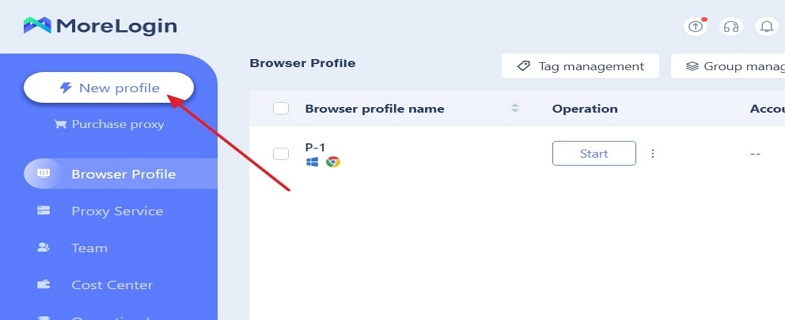 Step 2: Create a Browser with New Settings
Under the "Short Cut Creation" tab, select your "Browser," "Operating System," and type the number of profiles you want to create under the "Profile Number Created" section and click "OK" at the bottom of the screen.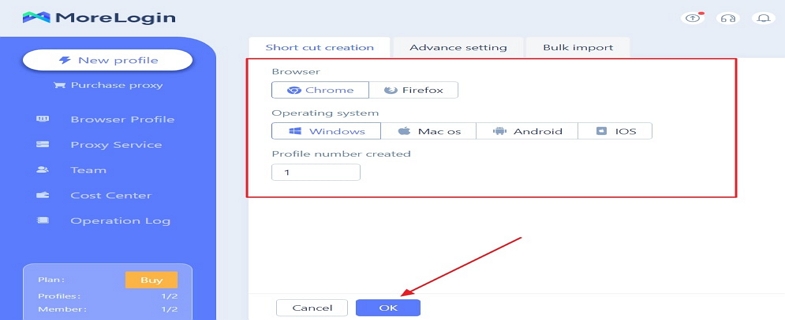 Step 3: Head Over to Business Facebook Page
You will see a new browser on the "Browser Profile" page. Click the "Start" button to activate the new browser. When it opens, type https://business.facebook.com/ in the link address bar. Now, click the "Log In" button at the bottom-right of the screen. Click "Log in with Facebook." At the bottom of the page, click "Sign Up for Free."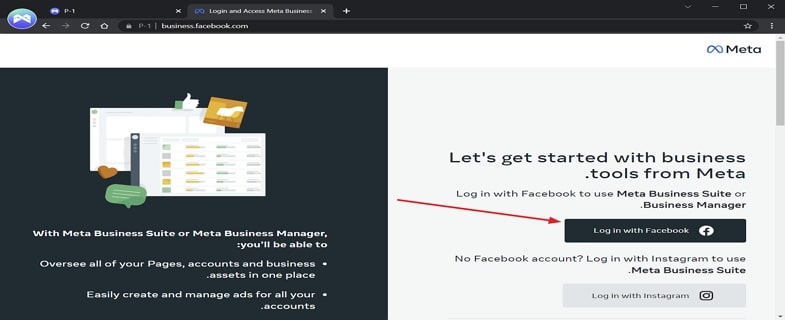 Step 4: Fill in the Form Accurately
At last, fill in the form details accurately. Afterward, click the "Sign Up" button at the bottom of the screen and start using the Facebook business using the same email address.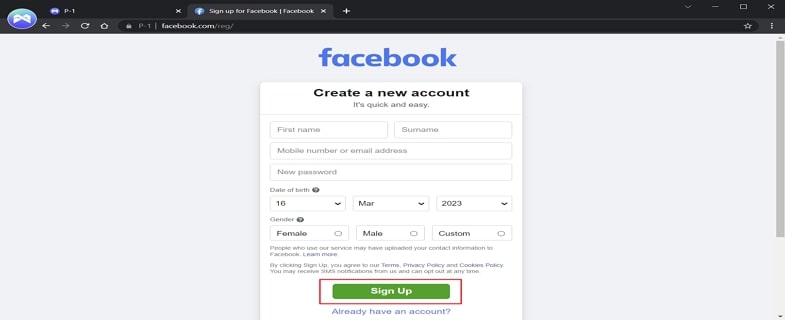 Part 3: How to Avoid Being Banned by Creating Second Facebook Account
If your Facebook account has been deactivated, you should prioritize reinstating it. However, as you might be familiar with, accessing the old account is never easy, and sometimes you lose it forever. Therefore, it is essential to prevent these issues from the moment you create a new account.
MoreLogin allows you to create individual profiles for each browser with distinct identifiers. You can use different browsers, which is equivalent to permanently associating a specific IP address with a particular browser profile. This help users eliminate the IP and location discrepancies when running multiple profiles for the same account and under the same email.
It's particularly useful for groups, as each member can manage their account under their profile without being tied to anyone else's IP address.
Ending Note
It's time to free your mind from all account ban-related queries. Create as many accounts as you like under the same IP address. This helps you maintain your and your team members' workflow without considering future barriers. MoreLogin helps you keep your second or a business Facebook account free from any detection through an anti-ban feature.